Around 120 people arrived at our first Springfest celebrated on the 29th of April. During the evening guests explored our coworking and event location, saw demonstrations by companies from our community and enjoyed a relaxed and warm evening around drinks, food, live music and an after-party. 
During winter we had the idea, infused by the positive changes in COVID-19 regulations in Berlin back then, to organize a big event where our community, partners and other stakeholders could meet and network. After two years of the pandemic, it was obvious we all needed a bit of fun and a sense of 'normal life', and the arrival of the summer season is always a reason to celebrate. Boom! The Springfest idea was born. 
The plan was to present what's going on inside Engelnest Coworking and also inaugurate our two event locations: Der Weinkeller and the Palleten-Lagen.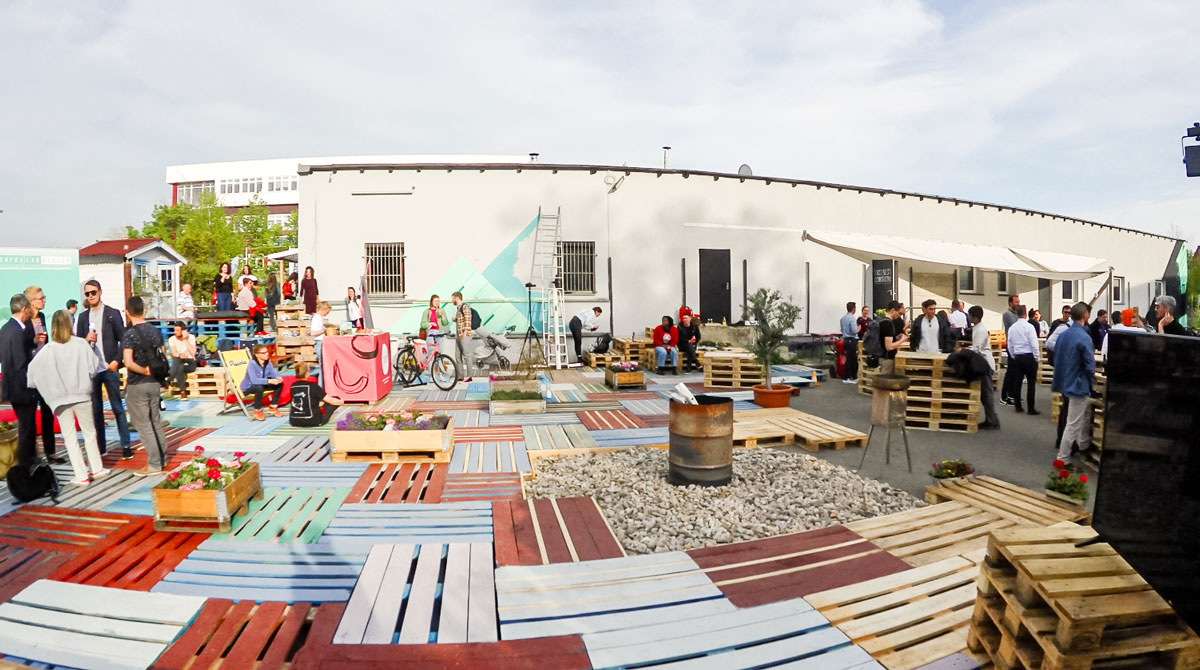 The Palleten-Lagen, our outside event location
From 5 pm that Friday guests started arriving and were welcomed with a drink. Those who were here for the first time were taken on a tour around the inside of our coworking space, the InfraLab Berlin and into Der Weinkeller, our conference space located in an arched bricked cellar that goes underneath our entire building.
Among the guests were single-desk coworkers and ex-members, current teams and their guests, employees from the six conforming companies of InfraLab Berlin (BSR, BVG, Berliner Wasserbetriebe, GASAG, Stromnetz Berlin and Vattenfall Wärme Berlin), and partners of Engelnest like Cobot (the software we use to manage our coworking space memberships and bookings) and the team of the Zero Waste Berlin Festival.
Earlier that Friday and the previous day, Stromnetz Berlin hosted a hackathon and many of its participants joined our Springfest too.
People were able to watch the trailer of the upcoming Jewish Film Festival Berlin and Brandenburg, happening on the 14-20 of June and whose team organises the festival from our coworking space.
Parallelly, other companies working from Engelnest had the chance to show their work in different formats:
Restlos Glücklich
Restlos Glücklich's stand got much attention with its Smoothie-bike powered by human energy, and guests could blend their smoothies from rescued fruits and veggies that otherwise would have been thrown away.
The team explained the importance of fighting food waste and taught about food appreciation and conscious consumption in a short workshop. Here guests could learn how to distinguish when is still safe to eat certain foods and together chopped vegetables that were later used to make a salad for the catering.
Realtime Robotics
Inside Der Weinkeller, Realtime Robotics has its robotics laboratory, and guests at the Springfest could see a robot working collaboratively with individuals while reacting to moving persons and other obstacles.
Traditionally, robots are designed to repeat a fixed sequence of motions as precisely as possible without knowledge of their surroundings, executing each motion exactly as programmed. Realtime Robotics implements artificial intelligence-based motion planning that allows robots to quickly perceive changes in their environment and adapt their motions to avoid collisions. This enables their clients in the automotive, logistics, and electronic industries to let two or more robots work in sync, or let robots and persons cooperate on a task.
The musician Serhat Ferat gave us all his energy and played for three hours, entertaining not only the grown-ups but also the smaller guests we had. As a singer, songwriter and guitarist, he created a multilayered musical experience and played a diverse repertoire looping with its pedals and guitar.
In case you missed you can watch our Springfest video!
Once the night started our friend TA-Bit took care of us and made us dance to the rhythm of electronic and techno music because after all, we are a coworking space in Berlin!
We thank everyone who came to our Springfest to visit our coworking, to celebrate with us and especially to our community, partners and friends who make our space what it is.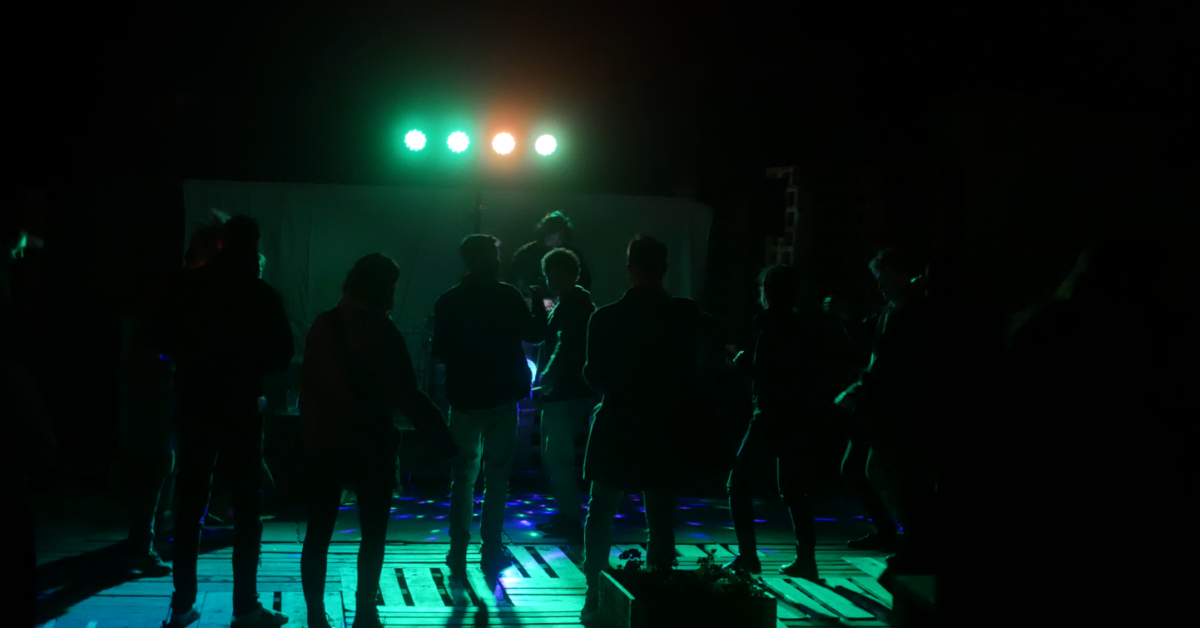 and get our news, events and offers!
(We promise not to spam you. Just an occasional email every 2 months.)